Gary's DR Page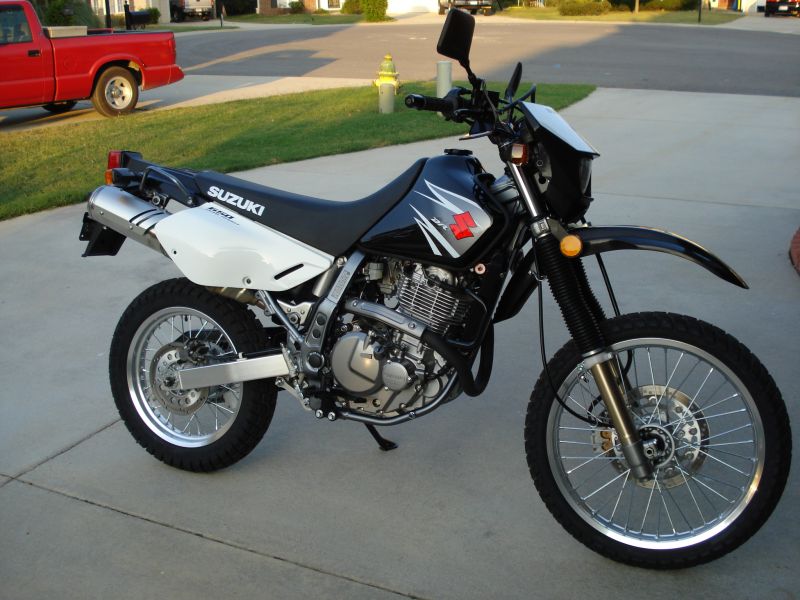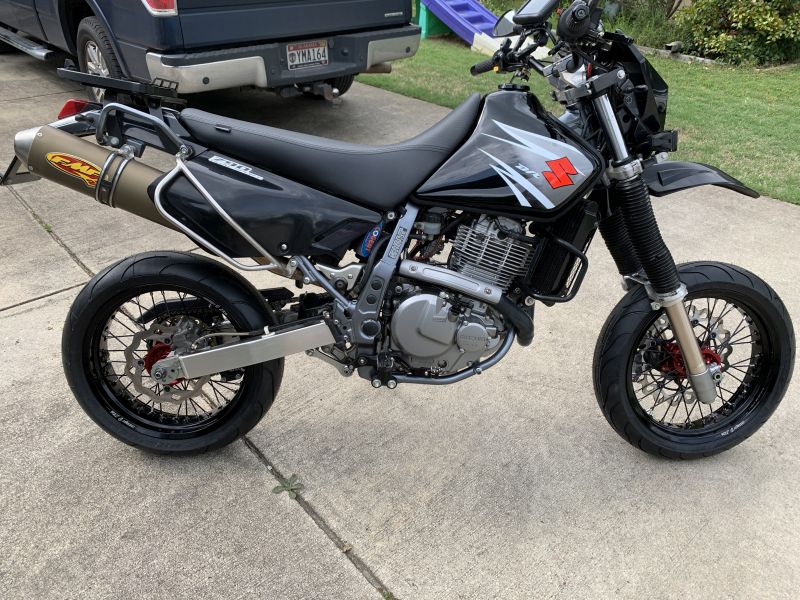 Click here for parts links. Taken from Thumpertalk forums.

Click here for current list of mods.

Click thumbnails for larger view.. Use your back button to return.
---
---
First upgrade was a new secondary filter from multisurface motorcycling.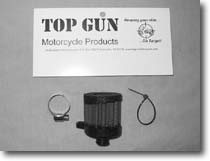 Second upgrade was a new tag holder.. cleaned up the rear nicely.
It's a nice piece however the single led under the fender does not adequately illuminate the tag.


---
Being disappointed with the tag lighting, added this led tag bracket from Radiantz.


---
Next on the list was tail light conversion and skid plate from Jesse at Kientech.




---
Mirror issue resolved.. Installed a pair of KTM Duke mirrors.. works much better.



---






YFZ 450 Flatslide carb about to be sent to Rob Shafer for modding.
---
Vapor installed.. great piece



blinker/neutral/high beam indicator relocated.
---



This tab was hitting the carb preventing it from seating all the way.. just cut straight and you're good.

FMF Q2 installed.. header weld ground, air box mod done and twin air filter installed.
Wow what a difference all this made.. It's a totally different motorcycle.
---
---




SW Motech rack with Givi E370 installed.
---




Cogent Dynamics prepared rear shock with rebound adjustment, Racetech Gold Valve and Eibach spring.

BMW Power Plug bracket mockup

upgraded master cylinder to Brembo..

New Galfer Stainless Lines




Renazco Racing Seat..this is the seat Suzuki should have built.



Galfer wave rotors purchased at the 2008 Indy MotoGP race..



Installed the RSW racing billet upper triple and it's a nice piece but it has shortcomings.
1. You will lose the ability to rubber mount your bars.
2. There are no provisions for blinkers. (Working on a retrofit bracket to solve this issue)
3. You must use their risers.
The factory switch is held in by two safety bolts. These bolts have a post in the center so you cannot use an ordinary Torx socket to get them out.
Fortunately for me I am friends with a machinist so I took him my Torx socket and he made the modification to fit. Beware, these factory bolts are in there
with red loctite.




As you can see here the new riser clamps have a wider bolt spacing which means the bracket from twisted throttle for the power plug will not transfer over.
Had a new bracket fabbed up. It's great to have friends who are machinists.

Comparison photo of Sidewinder Titanium II sprocket left and stock type JT sprocket right.



Custom blinker brackets done, pretty much done with this mod. Vibration is no more noticeable than with stock rubber mounted risers.

Speedo clutch elminator kit from ProCycle.Us works great.

Oversized stainless header back from Jet-Hot coating.




after ten minutes of riding coating already burned so back to jet hot it goes for a second coating with their 2000 degree stuff.
How to install Kuryakyn diode kit:
1.

Remove fly screen to gain access to blinker indicator. The Vapor makes this easy, simply pull out the indicator.. you can see it at the top of the pic.
The two black relays in the lower part of the picture are the headlight relays from Eastern Beaver.
2.Clip the two wires going to the indicator and ensure you give yourself enough wire to work with.. you'll need to solder or crimp, I suggest soldering whenever possible.
Ground one side of the indicator, doesn't matter which side. The other side goes to the single blue wire on the diode kit. The remaining two wires going back into the harness to go the red wires of the diode kit. tape up, bolt up and done. If you have a load resistor, remove it now as it's no longer needed provided you've replaced your flasher with a digital (non-load dependent) flasher.





Before and after with load resistor installed.. it's the black module with numbers.
Got on the Warp 9 Kick. Brake Pedal, Billet plugs, Gear shifter.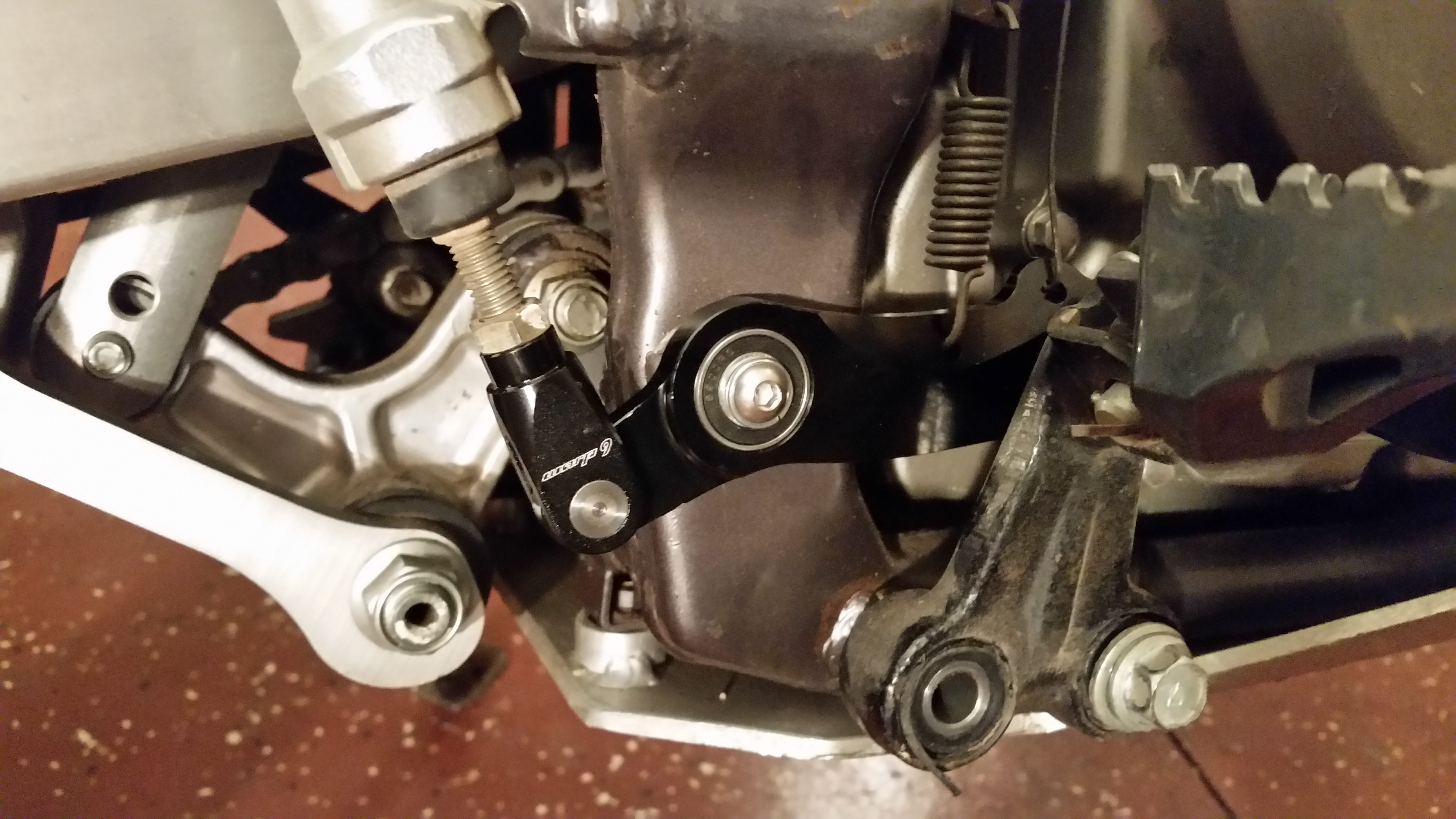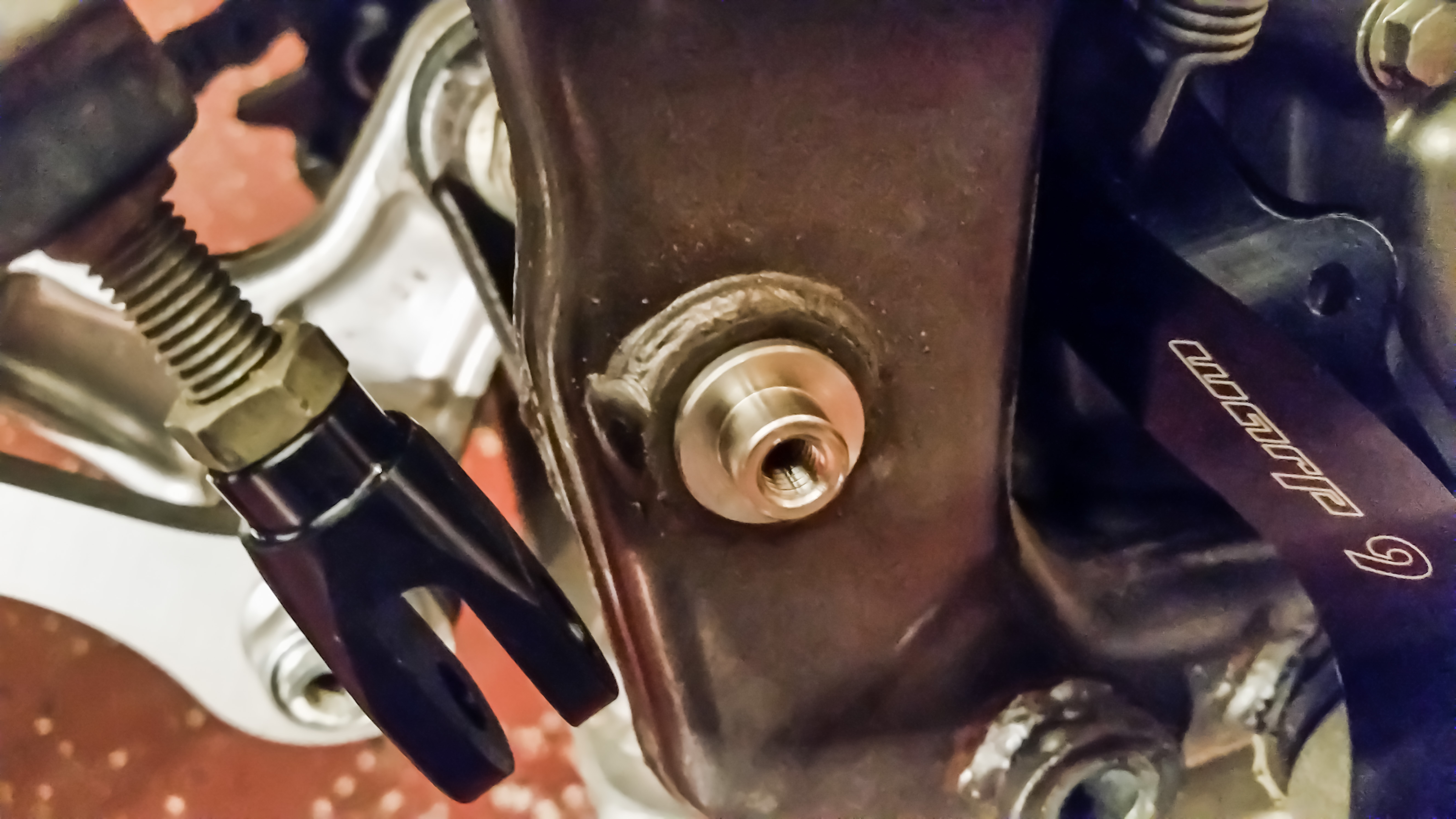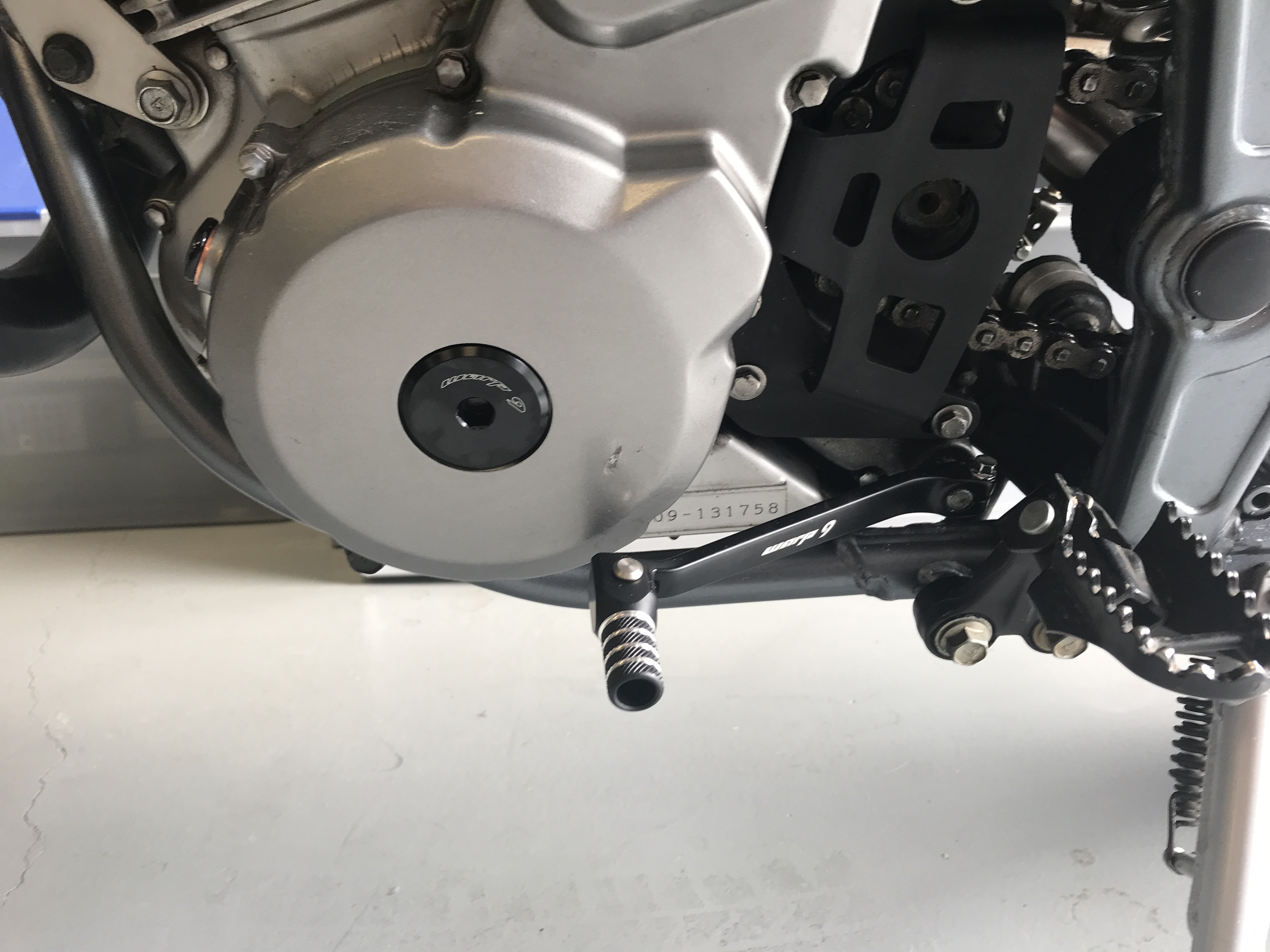 New Zumo 595LM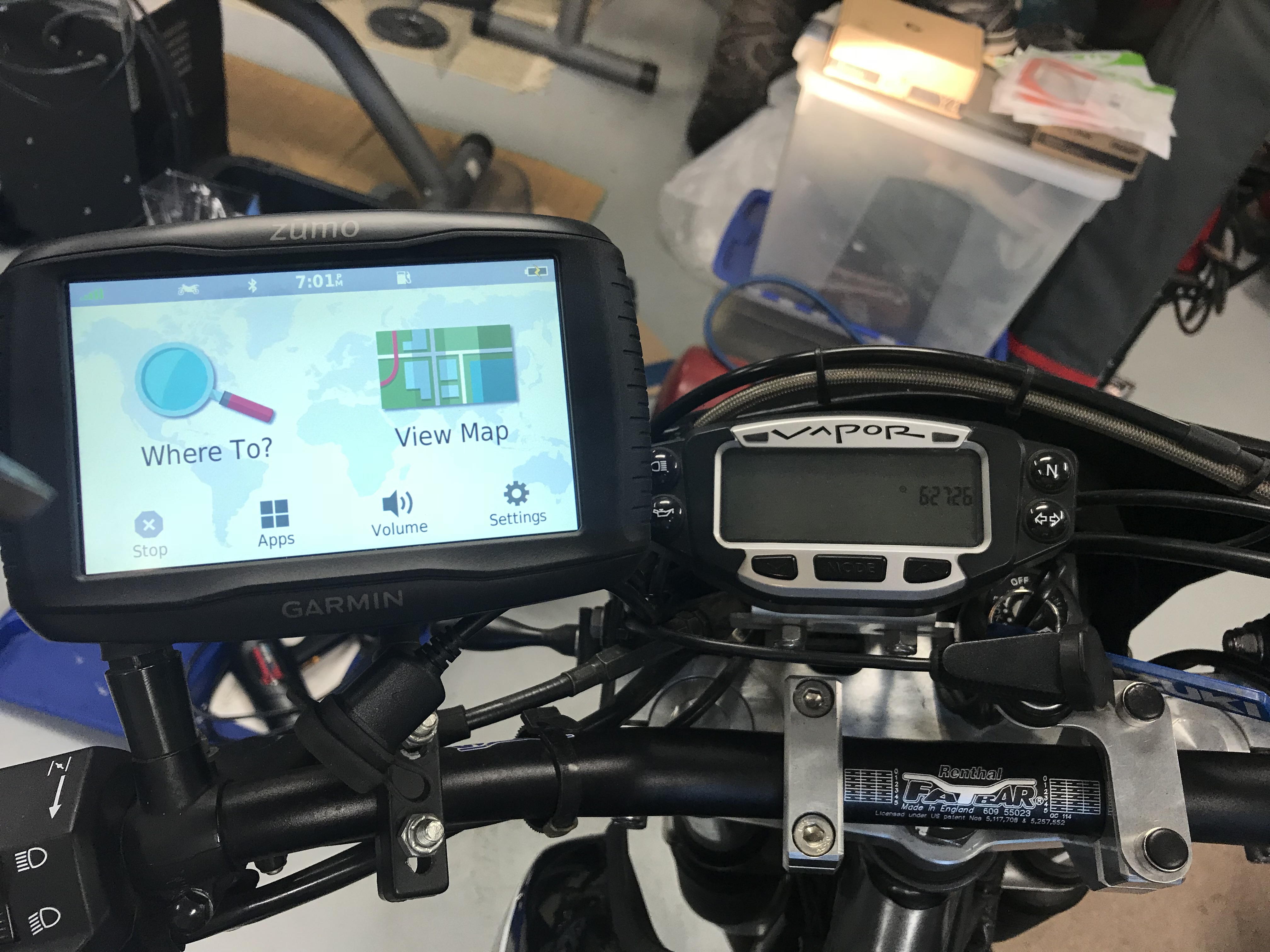 New Lighting - JNS Engineering LED Headlight and Vision X Solstice 2" LED Pods