Net.Work Europe - June 2006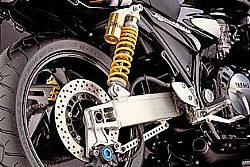 Want to fiddle with the suspension on your track bike? Firstly, check your tyre pressures and make sure they're spot-on. Then identify whether you want to alter your suspension at all. If the bike feels fine, then don't touch it. But, if you want to make some changes then this guide should help you identify what adjusters do what and how they affect your bike. The rule is to set up your static sag and then make one adjustment at a time, ride the bike and see what difference it makes. Always make a note of the standard settings, so you can easily go back to them if you feel you're going in the wrong direction.
Static sag: ...is the free play in your suspension between maximum extension and a normal resting position at a standstill. Lift the back of the bike as far as it will go without the rear wheel leaving the ground and measure between the wheel spindle and a mark on top of the tail unit. Then allow the bike to return to its normal position and measure it again. The difference is your static sag. Ideally you want between 20-25mm. Repeat this process with the forks to find your front sag. Remember, more preload means less sag and vice versa.
Preload: ...is an amount of tension set in a spring before a load is applied. It's the most basic suspension adjustment found on motorcycles.
Rebound damping: ...is what controls the speed of your spring's rebound or bounce back after being compressed. Without it, the bike would bounce you out of the saddle
...>>
Esther stars in womens championship
The second Woman's European Cup is underway, with Yamaha-riding Dutch woman Esther Hoekstra proving to be one of the stars after finishing fourth in her home round at the street circuit of Hengelo. The YZF-R6 rider, whose boyfriend and mechanic Hendrie is a technician at Yamaha Motor Europe, currently lies eighth in the four round series in only her first full year of racing. "I got my racing licence riding an R1 at Oschersleben last year", explains Esther. "I started racing last year because it is safer to go fast on the track than on the road, and also my boyfriend was racing and it meant that I was already at the track. This year has gone well so far. I've already set my personal best lap time around Assen (a 2'02) and the European championship is quite an experience. Those girls ride very fast and are really professional. I've
...>>
Yamaha introduces racy new scooters
Two MotoGP-liveried versions of the ever-popular Aerox R are now available. The Aerox R Special Version pays tribute to Yamahas rich racing heritage, featuring the yellow, white and black colour scheme made famous by Kenny Roberts in the Seventies and reintroduced to such acclaim at last years American MotoGP round.

The Aerox Race Replica is another new-for-2006 model, featuring a design based on the Yamaha factory teams YZR-M1s. Its also the model chosen by riders Colin Edwards and Valentino Rossi as their paddock bike for the season, making it not so much a replica as the real thing.
Another Yamaha that can be seen scooting around the MotoGP paddock is the JogRR MotoGP, which enhances the continuation of Yamahas partnership with MotoGP promoters Dorna. Yamaha is once again the official scooter supplier to Dorna, with the MotoGP liveried JogRR an exact replica of those used by MotoGP staff at race weekends.

All three scooters are available now from Yamaha's European dealer network. Alternatively visit the microsite for further information:

Yamalube hits the shelves
Yamalube, the only lubricant officially authorised by Yamaha Motor Company, is set to go on sale in more official Yamaha dealerships across Europe this summer. Yamalube offers a complete range of lubricants for land and water use and are tested in some of the highest sporting arenas, with Stefan Everts and Chad Reed using Yamalube products in their factory motocross machines. So next time you need to change your oil, why not use the stuff developed by the same people who develop your Yamahas engine?

For more information please visit:
Readers are winners with YME newsletters
A number of Yamaha fans have been joining us as VIP guests at world superbike rounds this year after winning the competition in last months newsletter. FJR1300 rider Ian Smart from Scotland was the first winner, visiting the British round at Silverstone with his friend and bike club member John Wilson at the end May. Both had a great time, getting a VIP tour of the Yamaha Motor Italia pit box and enjoying food at the team's award-winning hospitality unit. Winners for the rounds at Misano and Eurospeedway Lausitz are Mr. Alexander Gro and Mr. Fabio Piccirilli.

Keep subscribing for more competitions in the coming months.

For the latest racing news please visit our racing site.