Jump to page: 2 3 4 5 6 7 8 9 10 11 12 13

---
In 1985 while stationed at Keesler AFB Biloxi MS, I had never heard of a Vmax much less seen one. In fact I don't remember my first Vmax sighting but one look and I was hooked. There is no other two wheeled invention on the planet that looks this mean.
I purchased my 99 Vmax in late 2000 with approximately 2800 miles. With a wasp nest under the seat and lots of surface corrosion, I knew the bike had been sitting for quite some time. I believe the previous owner was scared of the bike and parked it shortly after purchase.

As the previous owner of a 1980 Suzuki GS550E and 96 Yamaha Royal Star, I envisioned this bike a handful to ride. Heard the max couldn't turn corners and wiggled everywhere it went. I didn't care, still wanted it and after that first ride, I knew it was going to be an interesting relationship.
My Max has gone through some major changes since day one and this web site illustrates those changes. I want to emphasize I could not have made it this far if it weren't for the great folks in the Vmax community. The tech and chat lists have proven extremely helpful in improving this fine motorcycle. It can be very difficult to find aftermarket parts for the max if you don't know where to look…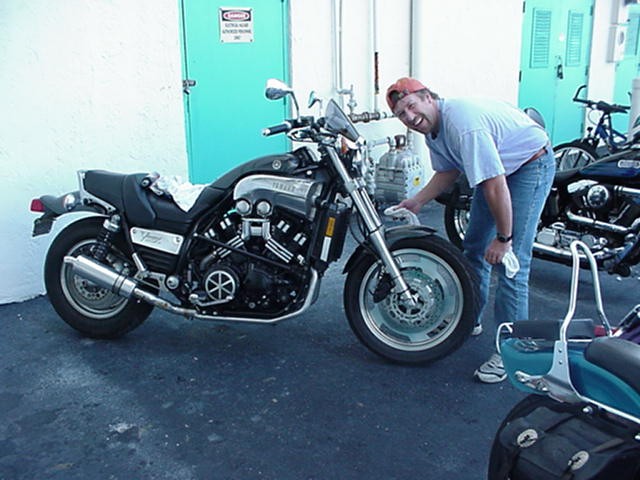 First pic of me and Mr. Max taken at Daytona beach March 2001 by Chip Fisher a fellow Vmax owner. Not a lot of customization here except for the UFO pipes, RMS Frame Braces, Sportmax seat and a Stage 1 jet kit along with a superbrace and fly screen.. Some friends of mine at the motorcycle shop polished the scoops but they do not polish up well.. Don't waste your time trying to polish these, either paint or have them chromed. The motorcycle dyno'd at 116.5 rwhp with this combo.. I never had it dyno'd stock, something I regret. Vboost was permanently opened at this point and remained open until permanently removed for the installation of 39 flatslides.
As time went on, I met more and more Vmaxers online and began learning about all the aftermarket products available.. I quickly realized customizing this bike was going to be expensive but hey, we gotta spend our money on something.
More and more seat time proved this monster had handling issues.. I didn't even know where to start but I did know most of my initial investment would be improving handling. Seemed 17" wheels and radial tires make one of the biggest differences in the way this bike rides. The RMS frame braces I installed had already made a huge improvement in how it managed curves. Started researching 17" rims and didn't really like much until I saw a max with sportbike rims.. My search led me to Rick Leedburg who had a set of matching rims for sale. Rick wanted billet rims for his bike so I purchased the GSXR 1100 rear and 600 Thundercat front from him..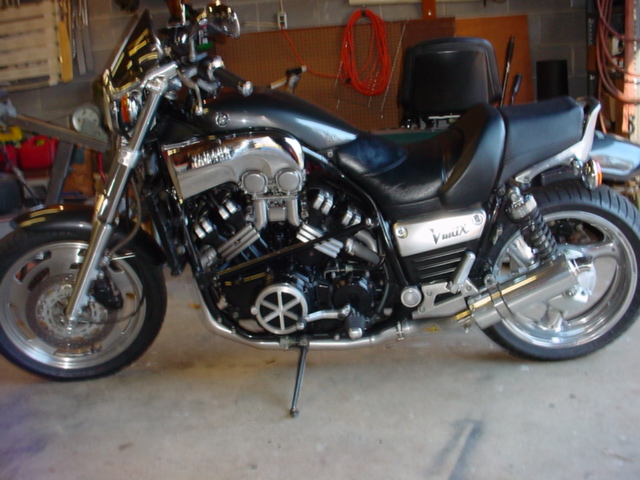 Above is the bike with the GSXR 5.5" rear rim installed covered in Metzeler Z4's. After this mod, I knew I'd made a good investment.. The bike turned much better with far less effort and no fighting to get it around the curve. Also had the scoops chromed at Chromemasters.
---
By now summer 2001 had almost passed and it was time for Biketoberfest.. After my first Daytona experience I knew I couldn't miss this event.. Riding with so many maxes was exciting and addictive. On one of the group rides, had my first real scare.. Going through a very light sweeper at 120mph I hit a small dip in the pavement.. This unsettled the front end and started a high speed wobble. Fortunately I remembered what to do and what not to do. Letting off the throttle and not applying any brakes brought the bike out of it on its own.. I was a nervous wreck after this. No one else on the group ride saw it happen. I promised myself when I got home, that issue would get resolved.


Get yourself this little tool from Yamaha and keep those steering head bearings checked.. Do it exactly as the service manual says.
First order of business after returning was removing the front end so I could prep the forks for the thundercat rim and have the stock springs removed in favor of racetech springs and gold valve emulators. I learned from Eric Harnish how the steering head bearings were usually the cause of most high speed wobbles. So off the triple trees came.. I decided to send them to Chromemasters while they were off and after their return, new upper and lower bearings were installed then torqued using the sequence in the service manual. I chose not to chrome the fork lowers at this time which I now regret. After machining the left fork lower to accept the t'cat rim, the racetech kit was installed. All I can say after performing these upgrades is wow!.. Totally different machine... I could actually hold it straight in the road.
By this time I had a clear direction.. I wanted to retain the basic look but get the bike as close to sportbike performance as possible.
---


Jump to page: 2 3 4 5 6 7 8 9 10 11 12 13